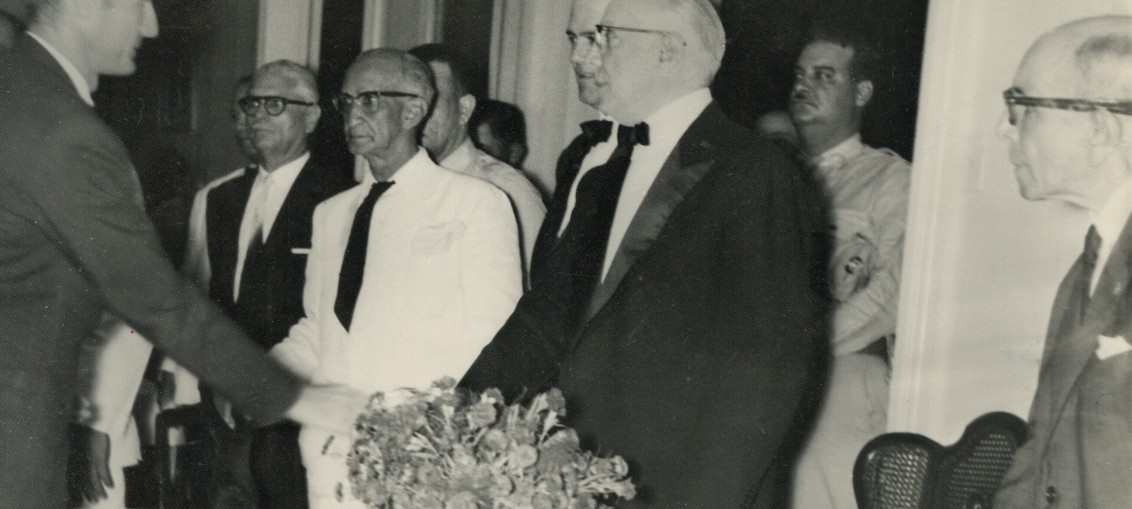 There was a time decades ago; before his assassination by the CIA with the help of Dominican dissidents that collaborated with the agency, a time before his "character assassination" and propaganda took effect, before the brainwashing of generations regarding the real story of the iron-fisted Dictator that modernized the Dominican Republic, there was a time when he was praised by many all over the world. The following is a letter of a speech written in 1958 by the Federation of Jewish Philanthropies of New York in appreciation of Trujillo's actions that saved the lives of hundredths of Jews by providing them a save Haven in Sosua, Dominican Republic at a time when they were being persecuted by Hitler.
The letter's content is contrary to propaganda created after his assassination. Nowhere is there a single piece of evidence indicating that Trujillo accepted Jew refuges to "whiten the race"; referring to a narrative that claims that Trujillo accepted Jews to "whiten" the Dominican population, or as another false narrative claims, that Trujillo accepted Jews in an attempt to cover the actions of a 1937 border incident between Dominicans and Haitians that led to the death of hundredths of Haitians. After Trujillo's assassination that event known as the "parsley massacre", has been used against Dominicans by anti-Trujillo and anti-Dominican sectors, scholars and historians to claim that the "massacre" was due to racism towards Haitians. A narrative used to pressure the Dominican Republic with intentions of forcing the country to change it's constitution to one that would grant Dominican citizenship to the sons or daughters of illegal Haitians born in Dominican territory. A coordinated slandering campaign that lives on until today.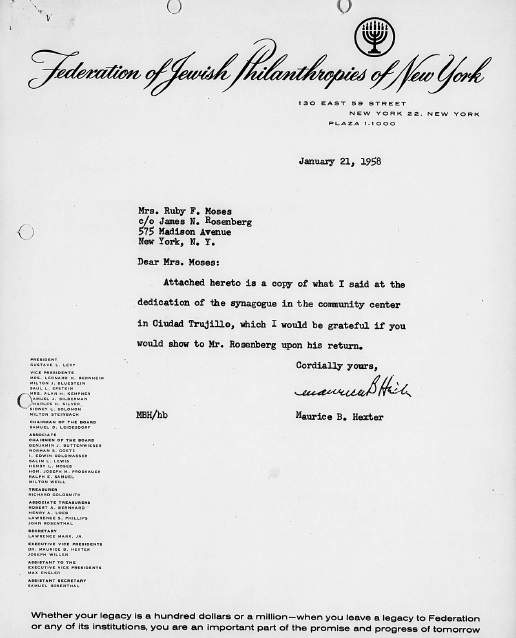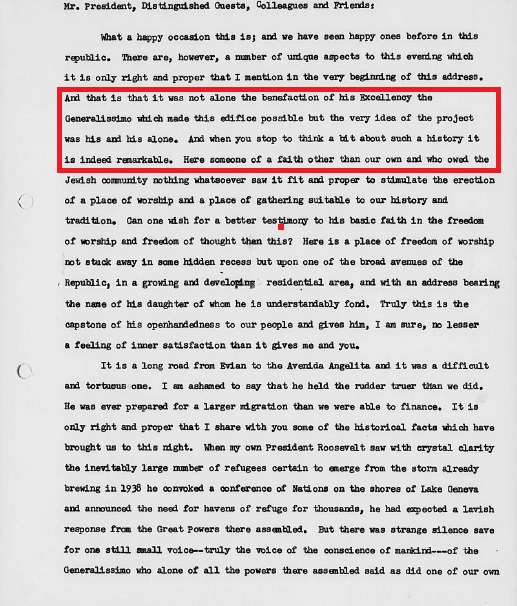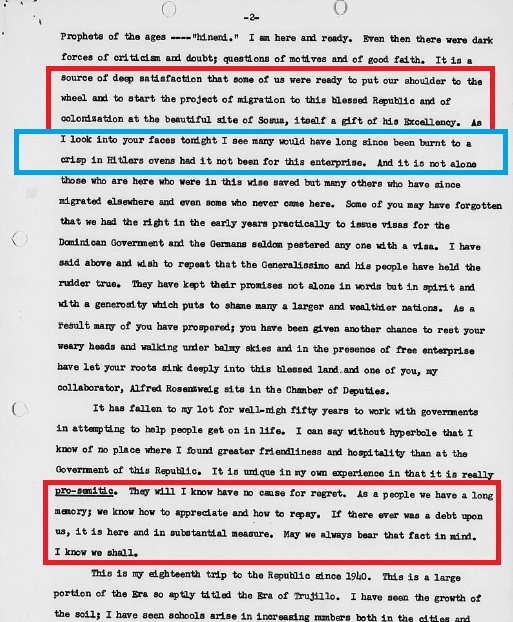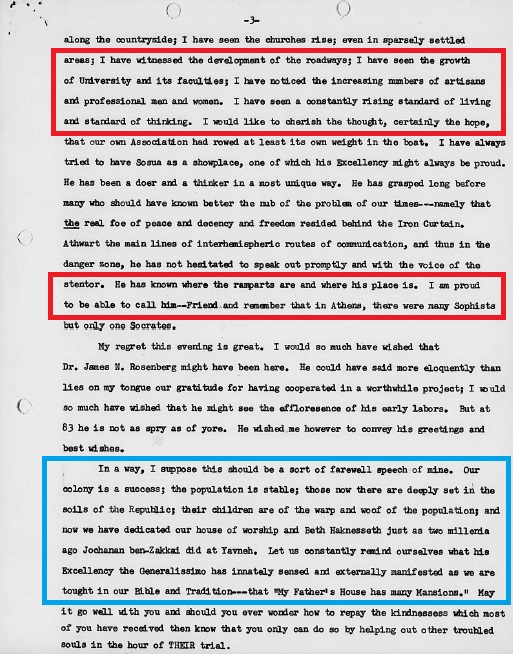 Nonetheless, the letter says:
"Mr. president, Distinguished Guests, Colleagues and Friends:
What a happy occasion this is; and we have seen happy ones before in this Republic. There are, however, a number of unique aspects to this evening which it is only right and proper that I mention in the very beginning of this address. And that is that it was not alone the benefaction of his Excellency the Generalissimo which made this edifice possible but the very idea of the project was his and his alone. And when you stop to think a bit about such a history it is indeed remarkable. Here someone of a faith other than our own and who owed the Jewish community nothing whatsoever saw it fit and proper to stimulate the erection of a place of worship and a place of gathering suitable to our history and tradition. Can one wish for a better testimony to his basic faith in the freedom of warship and freedom of thought than this? Here is a place of freedom of worship not stuck away in some hidden recess but upon one of the broad avenues of the Republic, in a growing and developing residential area, and with an address bearing the name of his daughter of whom he is understandably fond. Truly this is the capstone of his openhandedness to our people and gives him, I am sure, no lesser a feeling of inner satisfaction than it gives me and you.
It is a long road from Evian to the Avenida Angelita and it was a difficult and tortuous one. I am ashamed to say that he held the rudder truer than we did. He was even prepared for a larger migration than we were able to finance. It is only right and proper that I share with you some of the historical facts which have brought us to this night. When my own President Roosevelt saw with crystal clarity the inevitably large number of refugees certain to emerge from the storm already brewing in 1938 he convoked a conference of Nations on the shores of Lake Geneva and announced the need for havens of refuge for thousands, he had expected a lavish response from the Great Powers there assembled. But there was strange silence save for one still small voice—truly the voice of the conscience of mankind—of the Generalissimo who alone of all the powers there assembled said as did one of our own Prophets of the ages — — "hineni." I am here and ready. Even then there were dark forces of criticism and doubt; questions of motives and of good faith. It is a source of deep satisfaction that some of us were ready to put our shoulder to the wheel and to start the project of migration to this blessed Republic and of colonization at the beautiful site of Sosua, itself a gift of his Excellency.
As I look into your faces tonight I see many would have long since been burnt to a crisp in Hitler's ovens had it not been for this enterprise. And it is not alone those who are here who were in this wise saved but many others who have since migrated elsewhere and even some who never came here. Some of you may have forgotten that we had the right in the early years practically to issue visas for the Dominican Government and the Germans seldom pestered anyone with a visa. I have said above and wish to repeat that the Generalissimo and his people have held the rudder true. They have kept their promises not alone in words but in spirit and with a generosity which puts to shame many a larger and wealthier nations. As a result many of you have prospered; you have been given another chance to rest your weary heads and walking under balmy skies and in the presence of free enterprise have let your roots sink deeply into this blessed land, and one of you, my collaborator, Alfred Rosenzweig sits in the Chamber of Deputies. It has fallen to my lot for almost fifty years to work with governments in attempting to help people get on in life. I can say without hyperbole that I know of no place where I found greater friendliness and hospitality than at the Government of this Republic. It is unique in my own experience in that it is really pro-Semitic. They will I know have no cause for regret. As a people we have a long memory; we know how to appreciate and how to repay. If there ever was a debt upon us, it is here and in substantial measure. May we always bear that fact in mind.
I know we shall. This is my eighteenth trip to the Republic since 1940. This is a large portion of the Era so aptly titled the Era of Trujillo. I have seen the growth of the soil; I have seen schools arise in increasing numbers both in the cities and along the countryside; I have seen the churches rise; even in sparsely settled areas; I have witnessed the development of the roadways; I have seen the growth of University and it's faculties; I have noticed the increasing numbers of artisans and professional men and women. I have seen a constantly rising standard of living and standard of thinking. I would like to cherish the thought, certainly the hope, that our own Association had rowed at least it's own weight in the boat. I have always tried to have Sosua as a showplace, one of which his Excellency might always be proud.
He has been a doer and a thinker in a most unique way. He has grasped long before many who should have known better the nub of the problem of our times—-namely that the real foe of peace and decency and freedom resided behind the Iron Curtain. Athwart the main lines of inter-hemispheric routes of communication, and thus in the danger zone, he has not hesitated to speak out promptly and with the voice of the Stentor. He has known where the ramparts are and where his place is. I am proud to be able to call him—Friend and remember that in Athens, there were many Sophists but only one Socrates. My regret this evening i s great. I would so much have wished that Dr. James N. Rosenberg might have been here. He could have said more eloquently than lies on my tongue our gratitude for having cooperated in a worthwhile project; I would so much have wished that he might see the efflorescence of his early labors. But at 83 he is not as spry as of yore. He wished me however to convey his greetings and best wishes.
In a way, I suppose this should be a sort of farewell speech of mine. Our colony is a success; the population is stable; those now there are deeply set in the soils of the Republic; their children are of the warp and woof of the population; and now we have dedicated our house of worship and Beth Haknesseth just as two millennia ago Jochanan ben-Zakkai did at Yavneh. Let us constantly remind ourselves what his Excellency the Generalissimo has innately sensed and externally manifested as we are taught in our Bible and Tradition—that "My Father's House has many Mansions." May it go well with you and should you ever wonder how to repay the kindnesses which most of you have received then know that you only can do so by helping out other troubled souls in the hour of THEIR trial."
Furthermore, the next note shows Trujillo's respect for Jewish religion as he makes it clear to a Papal Nuncio after giving $60,000 dollars of his own money for a synagogue to be built in Ciudad Trujillo in 1953.
"Generalissimo Trujillo, at the Club de Comercio, Puerto Plata, stated: "Two years ago I gave to the Jewish community $60,000 to build a community center and synagogue. A year ago I visited the center and the synagogue. The very next day the papal nuntius Monsignor Zanini visited me and told me that according to a canon of the Catholic religion, a Catholic who visits a synagogue is not considered a Catholic any more. My answer was: "Your Excellency, if you consider it that way, it's all right with me. I am in love with freedom of religion."'
Sources:
jdc.org
Please follow and like us: